Newsletter updates
Nov 1, 2017
Hi everyone,
Well, it's turned out to be a crazy busy summer, and then fall, and now here we are into winter already in New England! Every time I sit down to get some gig news out, it's time for another rehearsal or something or other but, alas, I have a break between shows #2 and #3 (of 16?) of
42nd Street going on right now at North Shore Music Theatre, and so I am taking care of this before I head back down to the pit! Here's some photos from the show. Yea, it's dark for a reason (they don't want us musician beauties competing with the dancing showgirls).
What, did you expect me to be sharing pictures of the showgirls? Come on, you know you love DRUMS!


Recent Orchestrotica Tour Draws Millions
How's that for some fake news? ;-) Actually, we did draw 100s at our shows in Edmonton, Canada and at the beautiful Detroit Institute of Arts (DIA) a couple weeks ago. The quintet formation of Mr. Ho's Orchestrotica had a new bassist on board, Max Ridley, who did a stellar job working up what I've come to learn are extremely difficult bass parts. (Or just bad writing? It's hard to know sometimes!) Anyhow, it's been nice to see my long-term goals of getting the Orchestrotica on the road more are finally coming to fruition; I'm having a lot more fun with it these days now that our logistics are a bit less grueling than in the early days.
In October, I went to my first booking conference (ArtsNW in Tacoma, WA) and met with various arts presenters to talk about the Esquivel Megaband (new name!) and the Quintet formations. Hopefully we will get out there in 2019.
Prior to that, we will be doing a few concerts in Florida in 2018 (Feb, and probably June) and have a lot of interest for the 2018/19 seasons already in the works too. This summer, we played at the Huntington Arts Festival in Long Island which was a lot of fun too. I am hoping to get us to every state in the land, and of being, at some point. ;-)
Below is a photo from our quintet's DIA show on October 20th, right before we were introduced and came on stage. It was so cool seeing Diego Rivera's Detroit Industry murals up so close!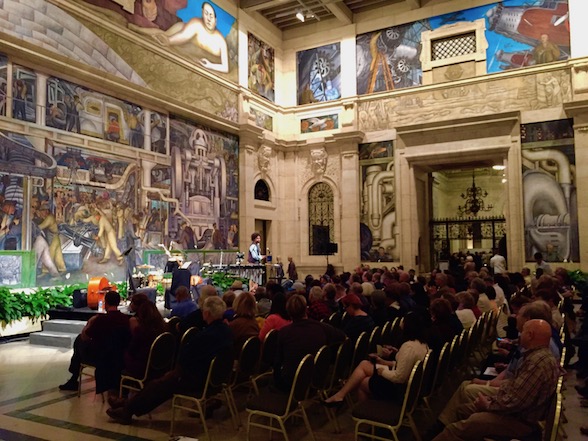 Coming Up...
For those of you in Boston asking "when are you playing again next," well here's the list. If you make it out, come say hello! I've been enjoying playing more with Albany Symphony the last couple years, and I will be back again on drumset for holiday pops again with them in December. Klezwoods also has its two annual Fall/Winter concerts: the Klezmer Festival, and the annual Klezmer Xmas show at Atwood's where the band was born. Always a good time! Below are the details as I know 'em ;-)
Upcoming Shows and Concerts
| | | | |
| --- | --- | --- | --- |
| | Wed, Nov. 1 @ 7:30 PM | 42nd St @ North Shore Music Theatre (Tickets) | Beverly, MA Map |
| | Thu, Nov. 2 @ 7:30 PM | 42nd St @ North Shore Music Theatre (Tickets) | Beverly, MA Map |
| | Fri, Nov. 3 @ 8:00 PM | 42nd St @ North Shore Music Theatre (Tickets) | Beverly, MA Map |
| | Sat, Nov. 4 @ 2:00 PM | 42nd St @ North Shore Music Theatre (Tickets) | Beverly, MA Map |
| | Sat, Nov. 4 @ 8:00 PM | 42nd St @ North Shore Music Theatre (Tickets) | Beverly, MA Map |
| | Sun, Nov. 5 @ 2:00 PM | 42nd St @ North Shore Music Theatre (Tickets) | Beverly, MA Map |
| | Tue, Nov. 7 @ 7:30 PM | 42nd St @ North Shore Music Theatre (Tickets) | Beverly, MA Map |
| | Wed, Nov. 8 @ 2:00 PM | 42nd St @ North Shore Music Theatre (Tickets) | Beverly, MA Map |
| | Wed, Nov. 8 @ 7:30 PM | 42nd St @ North Shore Music Theatre (Tickets) | Beverly, MA Map |
| | Thu, Nov. 9 @ 7:30 PM | 42nd St @ North Shore Music Theatre (Tickets) | Beverly, MA Map |
| | Fri, Nov. 10 @ 8:00 PM | 42nd St @ North Shore Music Theatre (Tickets) | Beverly, MA Map |
| | Sat, Nov. 11 @ 2:00 PM | 42nd St @ North Shore Music Theatre (Tickets) | Beverly, MA Map |
| | Sat, Nov. 11 @ 8:00 PM | 42nd St @ North Shore Music Theatre (Tickets) | Beverly, MA Map |
| | Sun, Nov. 12 @ 2:00 PM | 42nd St @ North Shore Music Theatre (Tickets) | Beverly, MA Map |
| | Sat, Nov. 18 @ 7:30 PM | Klezwoods' Annual Klezmer Festival @ Regatta Bar (Tickets) | Cambridge, MA Map |
| | Sun, Dec. 3 @ 3:00 PM | Albany Symphony Holiday Pops @ Palace Theatre (Tickets) | Albany, NY Map |
| | Tue, Dec. 12 @ 9:30 PM | Klezwoods' Annual Klezmer Xmas Show @ Atwoods Tavern | Cambridge, MA Map |
---
Previous newsletters and releases