Adult Percussion Lessons with Brian O'Neill in the Greater Boston area of Massachusetts
My Focus of Teaching, Instruments, and Style Specializations
Thanks for inquiring about lessons with me!
Are you looking to play with your friends in a band or jam session? Or maybe play along to your favorite tunes or just alone? I'd love to help you reach your musical goals.
I have been playing music for over 35 years, and professionally for 25 years in styles ranging from national Broadway touring shows (Motown, Anastasia) to opera, orchestras (including Carnegie Hall), small bands/combos (klezmer at the Kennedy Center!), and even with the disco queen, Diana Summers. My focus for teaching is primarily on hand percussion (particularly frame drums, ethnic tambourines, cajon, and doumbek) and vibraphone (jazz or classical), but if you'd like to study something else within my expertise, feel free to inquire. We can work on instrument specifics/technique, specific styles of music, and reading (reading ability is not required for hand percussion).
My Students / Age Focus
My studio caters to adult students age 18+. Exceptions for highly mature younger students can be considered case by case. I am very selective about taking on students and have a limited number of spots in my studio. Beginners are totally welcome, however I only work with students who are serious about their learning and putting some investment into developing their musicianship outside our lessons. If your goal is primarily to have fun and play recreationally, that is totally fine. I realize working adults have busy lives, families, etc. However, since your musicianship primarily will be developing outside our the studio, in your personal time, it's important you commit some time to practice and study...unless you are satisfied with the very slow growth that occurs when there is no practice between lessons.
What's Included/Not Included With Lesson Blocks?
In addition to our lessons, students may contact me via email at any time with questions about practice/study etc. It is the student's responsibility to obtain an instrument (I cannot provide instruments for all of my students unfortunately). I can make basic recommendations for instruments, however if you need personal 1-on-1 help finding the perfect instrument for your goals, I also offer a "Personal Percussion Shopper" service. There is no single "right" brand/version/instrument for everyone; a lot of it comes down to choice, and knowing what to look for based on your goals, budget, and ability level, and this is what we work on together with the personal shopper service.
Any method books or recordings are also the student's responsibility. You are investing in yourself, and also the other musicians, composers, and publishers who make their living writing, arranging, producing, and recording music.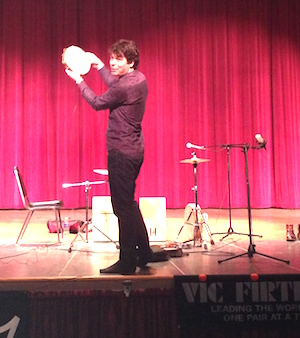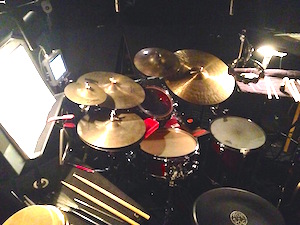 "…percussion master and musical polymath…" —Boston Phoenix
"…rediculously talented…" —Huffington Post
"…I just wanted to thank you again for the amazing seminar at UML. I know that you made a huge impact on the students and I did not even have to ask them, I could just feel it. (Of course many of them came up and told me how great it was!) It was not only your musicianship and interesting musical concepts, it was the way you presented everything with an obvious passion and contagious energy …"—Jeff Fischer, percussion instructor University of Massachusetts Lowell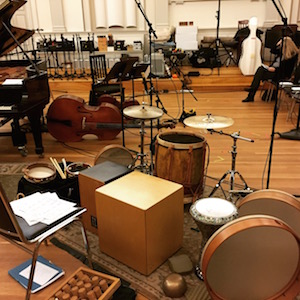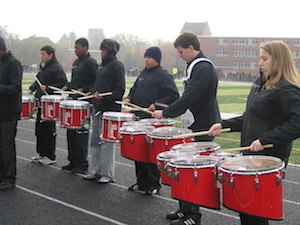 Lesson Package Pricing and 100% Money-Back Guarantee
Percussion lessons are available in bundles (blocks), not per lesson, and all packages include a 100% money-back guarantee (see below).
Lessons are held in Davis Square / Cambridge area at my home studio (see exception in Premium package).



Intro Package
Standard Package
Premium Package

This is intended for students looking to get a "boost" of teaching with a single, specific instrument or style, such that they can carry on individually with self-study. I will introduce you to the key things you need to know to develop a practice routine and make progress on your own.
4 Lessons
24/7 Access to me for practice/music questions via email through 2 months past the last lesson
100% Money Back Guarantee*

My standard package with traditional lessons, for students wishing to have consistent help with a teacher. We can work on a mix of percussion instruments or focus on a single instrument.
8 Lessons
24/7 Access to me for practice/music questions via email and phone through 2 months past the last lesson
100% Money Back Guarantee*

8 Lessons
24/7 Access to me for practice/music questions via email, phone and Skype video (for spot help) between lessons
Available at your home or my studio (subject to advance approval based on distance)
Personal Percussion Shopper service included if requested (if you need help buying an instrument)
(2) free tickets to any Mr. Ho's Orchestrotica show I may be playing during the lesson period (or any other non-Union gig on my calendar that I can obtain tickets for)
Extended 100% Money Back Guarantee*

$595*
$995*
$1895*

*100% Money Back Guarantee: I'm happy to refund 100% of your money for any reason. Just let me know within 72 hours after your first lesson and I will refund your entire package fee within a day. For the Premium package, you can invoke the guarantee after the first or second lesson and still receive a full refund.
Payment Method and Due Date: You can pay me with cash transfer or credit card via my PayPal page or my Venmo page. I also accept personal checks. 100% payment is due in full at least 7 days prior to the first lesson and scheduling of the block.
Scheduling: formal scheduling of your block of weekly lessons occurs after payment has been received (feel free to inquire about general availability up front). If after paying, we cannot find a suitable set of dates that work for both of us, I will refund 100% of your money.
Cancellations/Make-Up Lessons: In short, I do not make up student's missed or cancelled lessons. Please note this policy carefully: there are no exceptions here except for something extreme like a death in your immediate family, or severe illness (e.g. hospitalization, or a debilitating injury preventing further study). In the rare chance I need to re-schedule one of our lessons due to a conflict, we will find a mutually-good date to reschedule. (I try to avoid this, but due to the nature of being a professional musician, our schedules are more dynamic and it sometimes occurs.)
Make a Payment
Use my PayPal page or my Venmo page to pay with transfer or credit card.
Questions?