Biography: Brian O'Neill (multi-percussionist, composer, bandleader)
Phone: 347.482.1775
Email: brian@crashandboom.com

"…a percussion master and musical polymath…"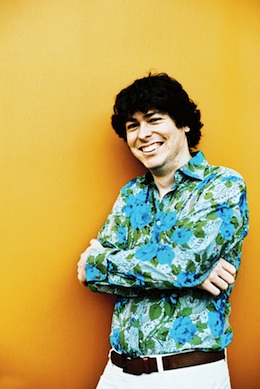 Brian O'Neill is a versatile percussionist, vibraphonist and drummer based in New York City and Boston, MA. He has performed with Arizona Opera Company, South Florida Symphony, Flagstaff Symphony (principal percussionist), Kristin Chenoweth, Donna Summer, Peter Erskine, Wallace Roney, Archie Bell, the Del-Larks, Juanito Pascual, and as a soloist with the Sun City Symphony (AZ). Brian's musical adventures have brought him to the Montreal Jazz Festival (main stage), Hawaii International Jazz Festival, the prestigious Festival de Mexico, various stages in Japan, The Kennedy Center, and Carnegie Hall. Currently, he leads the unique ensemble Mr. Ho's Orchestrotica, which is comprised of two unique ensembles: a vibraphone quartet playing global jazz ("exotica") music, and the world's only space-age pop big band performing Brian's transcriptions of the lost space-age pop music of Juan Garcia Esquivel. Brian is also a hand percussionist with The Klezwoods, The David Wax Museum, Aljashu, Kafana, The Bert Seager Quartet and he tours regularly with chamber-rock quartet CORDIS as their keyboardist. He can also be found freelancing with various orchestras and theatre groups.
The Boston Phoenix once referred to Brian O'Neill as a "percussion master and musical polymath." While his childhood was filled with many hours of classical piano, Brian eventually completed his university studies as an orchestral percussionist and jazz drummer. Today, O'Neill often performs as a vibist and hand/multi percussionist using a unique "organic drumset" setup made up of global sounds including cajons, frame drums, doumbek, exotic tambourines (especially pandeiro, riq, and tammorra), and a variety of found sounds. In addition to the varied mixtures of styles covered by his group Mr. Ho's Orchestrotica, he actively studies and performs jazz, Brazilian, Balkan, Klezmer, and Middle-Eastern styles of music. Brian also arranges, transcribes, and composes for Mr. Ho's Orchestrotica.

"…If John Zorn is an exotica Picasso, O'Neill is his Georges-Braque counterpart in cubism's transposition to music...and may be...a stronger exoticist than Zorn.…" —Gordon Marshall, AllAboutJazz
Most recently, Brian has produced and performed on two recordings with his band, Mr. Ho's Orchestrotica. The series—entitled Exotica for Modern Living—commenced with The Unforgettable Sounds of Esquivel (2010), which recaptures the space-age pop magic of big band arranger Juan Garcia Esquivel. The lost charts used in the recording were rescued by Brian, who transcribed the arrangements from the original 1950s albums and arranged them for 23 musicians. Eventually, the album received critical acclaim by the Sunday Times in London (Editor's Pick, four stars "...exquisite attention to details...") and Downbeat ("incredible arrangements, musicianship, and artistic direction") and currently is playing in 10,000 Starbucks stores world-wide. The second CD in the series—Third River Rangoon—features the Orchestrotica's global jazz quartet performing O'Neill's newest compositions and will be released in May 2011. Along with the Orchestrotica's projects, Brian also recorded on riq, doumbek, lap-style frame drum, and cajon with the Klezwoods' Oy Yeah (2010).

"…[The Orchestrotica is] a marvelously flexible unit that can morph from a small, swinging combo to the full-blown 23-piece orchestra…"—Jonathan Perry, The Boston Globe
On The David Wax Museum's Everything Is Saved (2011), one can hear Brazilian music's heavy influence on O'Neill whereby baião and samba-reggae —played on pandeiro, ganzá, cajon , and tappan—meld with the group's Mexo-Americana sound. Brian has also recorded with his Mexican son trio, La Tuza, on the album Son del Otro Lado (2009), which features him extensively on cajon, tamborita, quijada, pandeiro, marimbula, piano, and voice. Years earlier, as the original vibraphonist of the award-winning exotica band WAITIKI, he recorded two albums: Charred Mammal Flesh: Exotica Music for BBQ (2005) and Rendezvous in Okonkuluku (2007)—both of which won Exotica Album of the Year at the 2006 and 2007 Hawaii Music Awards. Along with WAITIKI, he also appeared on FleaMarket's Paradise Lost and Found: Songs of Hawaii Old and New (2007). In addition to recording, Brian also occasionally composes for specialty projects. In 2004, he co-wrote a film score to the Carl Dreyer silent movie Vampyr (1931) with Boston rock musician Shaun Wortis. They performed the score live during a screening of the film at the Cambridge, MA-based music venue, The Lizard Lounge. In 2011, he joined the modern chamber quartet CORDIS as their pianist, which is lead by concert cimbalomist and percussionist Richard Grimes.

"…incredible arrangements, musicianship and artistic direction…I'm sure the only thing better than hearing the record would be seeing this group live.…"—Frank Alkyer, DOWNBEAT
Born in Phoenix, Arizona in 1977, O'Neill's career in music began at age five with eleven years of classical piano training and a three-year engagement with the renowned Phoenix Boys Choir. Eventually, he graduated summa cum laude from Northern Arizona University (NAU) with a Bachelor of Music degree in Instrumental Performance (percussion) where he studied with Dr. Steven Hemphill. He also pursued jazz studies, performing on drumset, Latin percussion, and vibraphone with the top jazz ensembles in the acclaimed NAU Jazz Studies department (led by Joel DiBartolo and Pete Vivona). Additionally, Brian has studied with Jamey Haddad (hand percussion), Steven Spungin (flamenco), Raquy Danziger (doumbek), and Bill Wanser (orchestral music). Currently, Brian resides in Cambridge, MA and New York City. He speaks Spanish and Portuguese, and enjoys traveling and culinary arts.