Brian O'Neill: percussionist, drummer, vibraphonist, composer
"…Percussion master and musical polymath…"—Boston Phoenix

"…Brian's not just a great musician; he's also a first-rate composer."—Huffington Post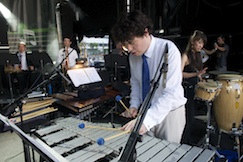 Recent

Winner: 2012 Music Poll - Best World Music Act (Mr. Ho's Orchestrotica)

"ridiculously talented"

"…incredible musicianship…"

"…positively mesmerizing, and more than occasionally tranquilizing."—The Brooklyn Rail

"…may be, in the long run, a better exoticist than [John] Zorn…"—AllAboutJazz

"I just wanted to thank you again for the amazing seminar at UML. I know that you made a huge impact on the students and I did not even have to ask them, I could just feel it. (Of course many of them came up and told me how great it was!) It was not only your musicianship and interesting musical concepts, it was the way you presented everything with an obvious passion and contagious energy."—Jeff Fischer, percussion instructor University of Massachusetts Lowell
Latest newsletter
Music News from Brian O'Neill: Tours, Esquivel's 100th B-day, and…Jan 17, 2018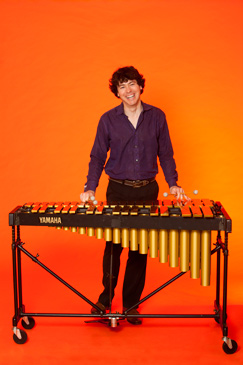 Orange press photos by Robin Holland.
About Brian
Brian O'Neill is a versatile multi-percussionist based in New York City and Boston. A "percussion master and musical polymath" (Boston Phoenix), he has performed in a variety of contexts including opera and classical (Albany Symphony, Boston Modern Orchestra Project, South Florida Symphony, Boston Festival Orchestra, Arizona Opera Ring Cycle Orchestra, Flagstaff Symphony), as a concert soloist (Sun City Symphony), pop music (Kristin Chenoweth, Donna Summer, Archie Bell, the Del-Larks), and jazz (Bert Seager, Peter Erskine, Wallace Roney, Ernie Watts). While he continues to freelance as an orchestral player and theatre drummer, he has become active in world and jazz circles performing music from Europe, the Middle East and Latin America regularly. As a multi-percussionist, he performs with the klezmer-Balkan-jazz hybrid The Klezwoods, Bert Seager's quartet called "The Why", Jeni Jol, and others.
Brian's musical adventures have brought him to the Montreal Jazz Festival (main stage), Hawaii International Jazz Festival, the prestigious Festival de Mexico, various stages in Japan, The Kennedy Center, and Carnegie Hall. Currently, he leads a "marvelously flexible" ensemble (Boston Globe) called Mr. Ho's Orchestrotica, which is comprised of two unique ensembles: a vibraphone quartet interpreting exotica music from a third-stream perspective, and the world's only big band performing Brian's transcriptions of the lost music of Juan Garcia Esquivel, the Mexican arranger and king of space-age-bachelor-pad music. In 2010, his Exotica for Modern Living recording series launched with an homage to Esquivel that received "four stars" from the Sunday Times London and was deemed "deliciously demented and entertaining in equal parts" by the Wall Street Journal. "O'Neill may be, in the long run, a better exoticist than [John] Zorn"—AllAboutJazz
Keep up with Brian and learn about his addiction to studying global tambourine techniques at crashandboom.com or on Twitter (@orchestrotica). Audio/Video, Bands/projects, Show calendar.